Location – Accommodation
Map of Natimuk with Frinj Venues
Press the link below
Frinj map
How to get here
Natimuk is located 324 kms north-west of Melbourne on the Wimmera Highway. If you are coming on public transport the V/Line bus/train travels daily from Melbourne's Spencer St Station and arrives in Horsham.
The Nati Frinj Shuttle Bus
From Horsham to Natimuk you can catch the Nati Frinj Shuttle Bus! It will be operating over the festival weekend. View the schedule HERE
The bus will be picking up from the Horsham Regional Art Gallery and be dropping off at the National Hotel, Natimuk.
The Nati Frinj bus shuttle has been supported through Horsham Town Hall. (Thanks guys, this is truly awesome).
If you are driving, make sure to fuel up before you arrive because there is no petrol in Natimuk.
Accommodation
CAMPING
Natimuk Lake Caravan Park
Camping is available 5kms out of town at the Natimuk Lake Caravan Park.

Ring Lyndon on 0407 800 753 to book. Bring a bike and torch for getting in and out, or make use of the new SHUTTLE BUS SERVICE!!! Just $10 a head for the whole weekend. Camping prices are: Powered site, $30 per night, (2 people per site), Unpowered site $20 per night, (2 people per site).
If you aren't staying at the lake but need a good wash, you can make use of the showers ($6 a pop) and coin-operated laundry facilities.
Natimuk Showgrounds
Camping in Natimuk township is now open for bookings. Camping will be located at the Natimuk Showgrounds Site. Please note that Cars and Tents will be kept separate (no camping right next to your car). Prices are $15 adult, per night and $10 under 16 yrs per night. Please book your place with Travis – 0407 874 238. Please pay in cash on arrival.
And Glamping!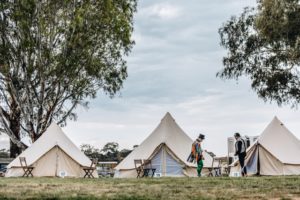 Happy Glamper are coming to the party and boy are we excited! Glamping tents will be located at the Showgrounds – please visit this LINK to book your tent. Be the envy of all the other campers in town. Prices start at $205 per person and cover your stay from 3.00pm Friday to 10.00 am Monday.
Mt Arapiles – Tooan State Park
There is also good camping at Mt Arapiles – Tooan State Park 8kms west of town. Camping fees apply, visit www.parks.vic.gov.au/stay for more information.
Accommodation is available at the Natimuk National Hotel but it is booked out well in advance of Frinj. There is hotel accommodation in Horsham (26kms east), Edenhope (60kms west), Nhill (70kms north) and in the Wartook Valley in the Grampians (about an hour southeast). Information on these can be accessed here www.visithorsham.com.au or by phoning the Horsham Visitor Information Centre 1800 633 218
Getting around – access issues
Natimuk is a small town, but after you have walked from one end to the other and back again in the pursuit of high-quality art experiences your feet may be feeling it. Bring a bike (and lock if your bike is precious) and/or some comfy shoes. Access around Natimuk will require navigation across cracked and sometimes none existent footpaths, please be aware of this as you plan your festival experience. The Festival HUB will be open 10am – 5pm and will provide a wheelchair battery recharge station during this time.
There are limited venues within the township so performances may take place in Band Rotunda's, old shed's, historic goal cells, someone's front room, disused garages – you get the idea. This means that access can be difficult. Not all the venues are suitable for disabled access but we will try and support our audience where we can. If you would like more information please give us a call or send us an email.