2017
And the weather was kind, whew! In 2017 we took the Nati Frinj back to the streets of Natimuk with roving performances, music in the Verj, a Barbershop, a miraculous Birth of a Unicorn Mermaid. There was the Dusk silo show, a cardboard city, snail racing, clothes swaps, TOAST bar and grill and Silent Disco Tours and we're just getting started….42 events over three days! Here are some memories to tide you over until 2019.
Possible Not -photographer Michelle McFarlane
A collaboration between Clunes based 'Asking for Trouble', the Wimmera Women's Circus and local gymnasties. Possible Not was an absolute highlight of the Nati Frinj – we could have filled the Hall three times over! This project was the result of an ongoing relationship between Asking for Trouble and the Wimmera Women's Circus. Possible Not was made possible by the Australian Government's Regional Arts Fund, which supports the arts in regional and remote Australia.
The Natimuk Rainbow Ladies colour the ever popular the Hay and Thespian Mardi Gras. Rams, cheerleaders and witches (?) also took part. Photographer Theresa Harrison.
The Lollipop Ladies introduced the Wiggle Bottom bridge and gave a detailed traffic report to Peter the local policeman (apparently there were many ' excessive smiling while walking' offences). Photographer Theresa Harrison.
Dusk – photographer Michelle McFarlane. A reflection of the 'day that was' at the Nati Frinj. 3 unique shows combining aerial performances, a talking moon, projections and shadow play. Dusk was supported by the Victorian Government through Creative Victoria, the Horsham Town Hall and all our fabulous supporters through the Dusk Australian Cultural Fund Crowdfunding Campaign.
B.A.R.E (Body Appliance Revival Experience) Local gals Wendy, Ella and Pearl supported B.A.R.E artist Sam Downing and introduced our festival audience to the joys of the washing machine dance. Photographer Theresa Harrison.
VCA graduates brought us Barbershop and were so popular they had to put on another 10 shows! Photographer Theresa Harrison.
Local artist Dave Jones presented Swelter, supported by Arts House, City of Melbourne through their Refuge project. Dave was hoping for hot weather but had to resort to halogen bulbs to heat up his model city, subjecting the inhabitants to an extreme heat scenario. Photographer Michelle McFarlane.
Rose Turtle Ertler drove up to Natimuk with her Complimentary Caravan and collected compliments from local community leading up to the festival. Photographer Theresa Harrison.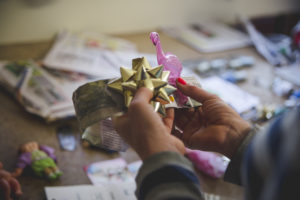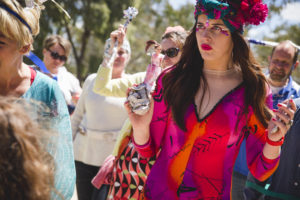 Opehlia Sol gave birth to a Unicorn Mermaid and invited us to Discover our Alter Ego with Opehlia Sol. Where else can you make a headdress from a gold star and a pink plastic flamingo and walk down the main street without anyone batting an eye? Photographer Theresa Harrison.
Our Bedford Truck stage was a great success, here we have Miles and Simone crooning to the late afternoon sun. Other great music over the weekend included Lily and King, Tek Tek, Victoriana Gaye, Disco Damo and the Itchy Scabs. Photographer Theresa Harrison.
And here are some random images to keep you entertained until the 1st November 2019!
L-R Baba Yaga hoping to surprise and eat a couple of local school children. Natimuk Rams player Simey in cheerleader mode, the excellent TOAST Bar and Grill. Photographer Theresa Harrison.
L-R Snail Racing and Guru Dudu leading the Silent Disco Walking Tour. Photographer Theresa Harrison.
See you in 2019!