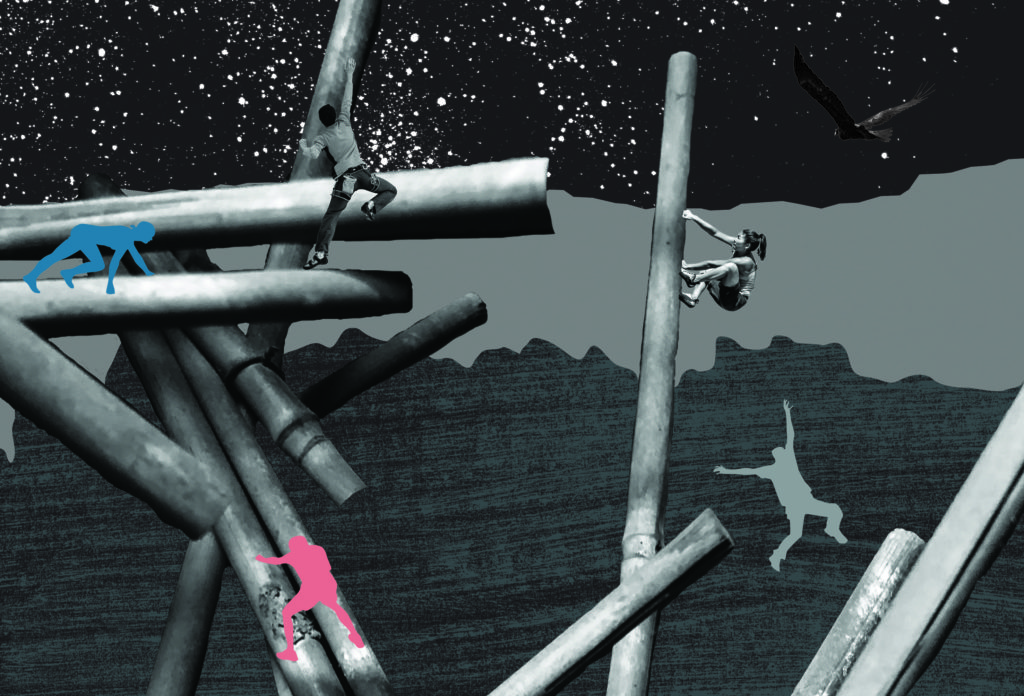 Vault
In a post-apocalyptic Natimuk, all knowledge has been lost and the land is ravaged by drought. Survivors share stories and fragments of history to explain their world, and shape a future. But they don't agree! Using YSpace Theatre's bamboo structure, 3 quarrelling climbers swing toward the heavens, hoping to get rain either from the Creator (definition disputed), or from a hole drilled in the sky. Writer Chi Vu and Wotjobaluk elder Ron Marks (in collaboration with the creative team) are developing VAULT using stories gathered from the diverse community of the Wimmera region: First Nations traditional owners, farmers, business people, climbers and artists. Since the beginning of time, mankind has used story to explain the world. If we lost all knowledge, all access to modern technology, we, too, would rely on story and memory. Where better to explore this idea than Natimuk? We are fortunate to have the vaulting bamboo structure, originally designed for YSpace by Simon Barley, as our set. The action will take place around and above the audience. They will be involved as the survivors on the ground. At NatiFrinj 2019, we are showing only an excerpt of what we are developing for 2021.
Writer Chi Vu
Consultant/Collaborator Ron Marks
Performers/Collaborators: Jack Sheppard, Abby Watkins, John Pyburn
Choreographer Jillian Pearce
Director Nancy Black
Sound Russell Goldsmith
Lighting Tom Willis
This project is presented by
Creative Victoria
Black Hole Theatre
Barengi Gadjin Land Council
Regional Arts Victoria Regional Arts Fund

Writer Chi Vu: Chi Vu is a Geelong-based writer and theatremaker who collaborates with diverseprofessional artists to create performances using genres such as the postcolonial gothic, horror, magic-realism and comedy. Chi's plays include 'Coloured Aliens' (La Mama), 'The Dead Twin' (Footscray Community Arts Centre; George Town Festival Malaysia), 'Banh Chung installation-performance, (FCAC)' 'A Story of Soil' (FCAC) and 'Vietnam: a Psychic Guide' (North Melbourne Arts House). Chi completed her Master in Writing for Performance at the Victorian College of the Arts. Her prose writing includes 'Anguli Ma: a Gothic Tale' (short listed in a NSW Premier's Literary Prize) and short stories published in 'Joyful Strains','Growing up Asian in Australia' and the 'Macquarie PEN Anthology of Australian Literature'.