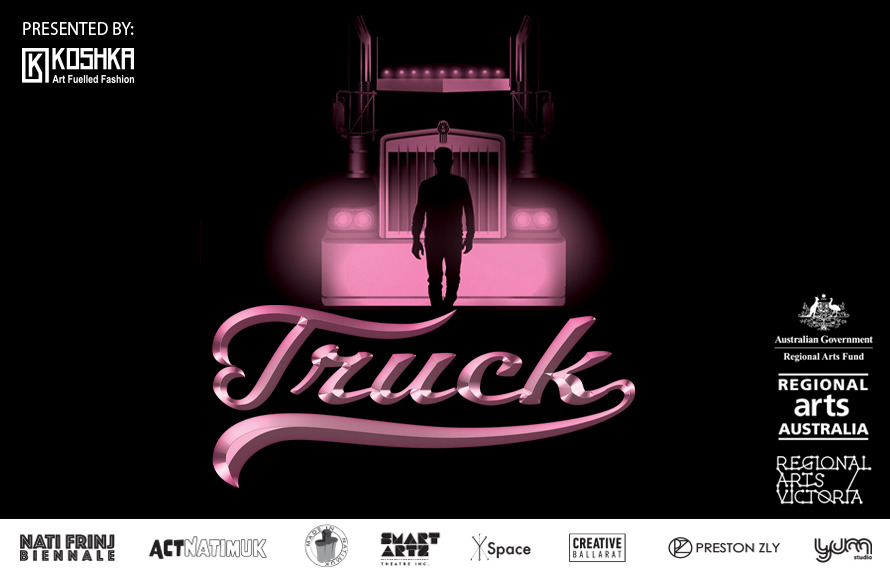 Truck
TRUCK – A FASHION THEATRE SPECTACULAR
Kat Pengelly of KOSHKA – Art Fuelled Fashion is at it again with another unlikely fashion fusion inspired by trucks and war. Previous off the wall (literally) offerings were 'Feeling the Ceiling – Fashion for Rock Climbers' (Nati Frinj 2011) and 'Fashion for Funerals – Putting the FUN into Funerals' (Nati Frinj 2015 and Ballarat 2017). Like these former events, TRUCK is set to be a hugely entertaining and profoundly significant fashion concept show. It is an ode to Kat's dad Graeme, who you may get to meet over the Frinj weekend.
TRUCK pays tribute to unsung Aussie heroes by celebrating the past, present and future of the trucking industry – a rich, working-class, sub-culture without which Australia would literally grind to a halt.

Travel with our truckie, a Victorian Vietnam veteran who finds healing in haulage, as we unload his journey through a multimedia, cross artform, theatrical experience.

There's music, but it's not a musical. There's fashion, but it's more than a parade.

Utterly unique in its presentation you may think "What the truck?" at the beginning, but by the end we guarantee you'll want to "KEEP ON TRUCKIN"!
A colossal collaboration brought to you by Koshka, Project 2045, Smart Artz and  
Y Space.
Major Sponsors – The Australian Government's Arts and Cultural Development Program, Regional Arts Australia and Regional Arts Victoria.
Also supported by ACT Natimuk Creative Lab Program and the City of Ballarat Creative Inspiration Grant.