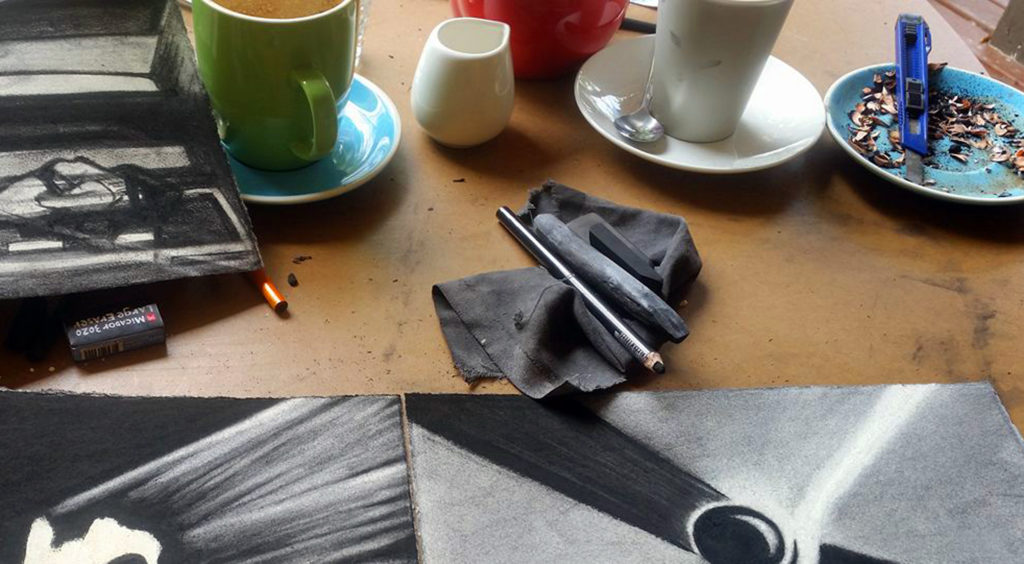 Triple Shot (3 friends, 3 large drawings)
For several years, Brendon Abernethy, Alison Eggleton, Anthony Pelchen and other friends have been meeting for Sunday morning coffee-fuelled, distracted drawing sessions at the Nati Café. They talk and draw, sifting the good, bad and ugly of the week in drawing. This weekly communion is ongoing, but it was time to go large for the Frinj. The three will install one drawing each in The Studio.
As the world hurtles towards a Collective Attention Deficit Disorder due to overuse of devices, these three celebrate the immersive and imaginative potential of the simple, hands on act of drawing.
In 2018 I sat in the Nati Café stressing over the lack of Likes and nasty comments that my last Facebook post generated, I looked over and saw three locals with charcoal on their faces, drawing. I felt an overwhelming sense of envy, and have never recovered – Blanko Putaneska (visiting Prawn Fisherman, Naples)