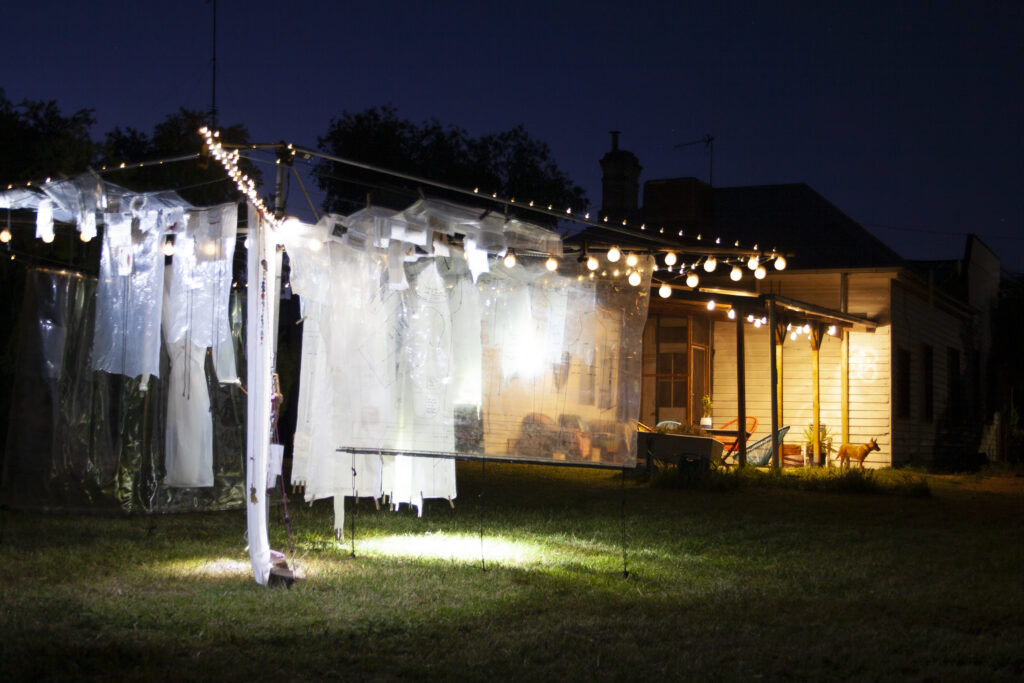 The Pattern Maker performance and Rain Women installation
Gillian Turner PhD is an experienced and award-winning artist. Her practice focuses on conceptual work including installations. She has had exhibitions in Geelong, Melbourne and Ireland. Gillian has been awarded artist residencies in Australia and Ireland, and will be returning to Ireland in June 2023 to work in the acclaimed artist village of Cill Rialaig, Co, Kerry.
Her previous installation at the Nati Frinj in 2019, Voices from the Land which responded to the voices of local women from farming backgrounds proved very popular with locals and visitors. Lit only by traditional standard lamps with constructed shades using text fragments of conversations, local details, and textured surfaces, the reflective installation offered an opportunity to hear the voices of five local women.
Her most recent work in April 2022 was for UN-settled, a collaboration at the Old Mill, Portarlington.
Gillian is also an experienced educator, musician and published writer.
Rain Women will explore a little-known aspect of the town's history: a short-lived manufacturing industry and the young local women who were employed there during the 1950s. The factory, set up as part of an attempt to generate employment for women in remote regional towns, is an ironic and little-known aspect of the town's history.  Assembling plastic raincoats from pre-cut parts, the women were making garments for Melbourne. This factory is possibly the first in Victoria to manufacture clear plastic rainwear as a fashion garment. The Pattern Makers performance will take place on Friday 28 October starting at 9.30pm.