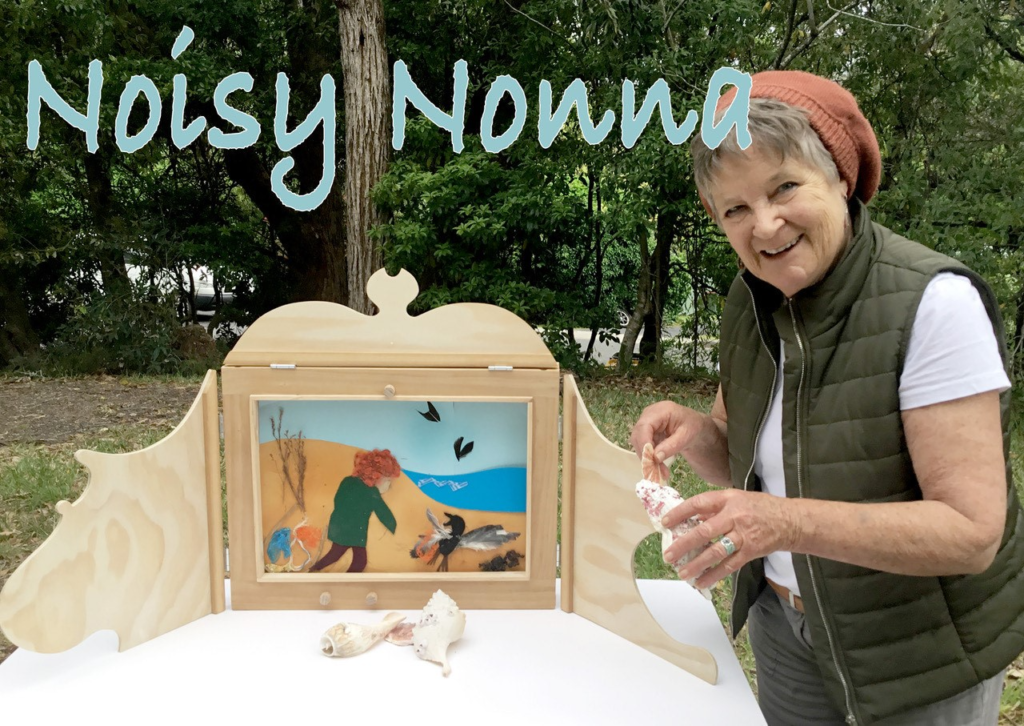 The Noisy Nonna Show – Georgina Adamson – Cancelled
It is with sadness that we have cancelled the Noisy Nonna show. Georgina lives in Bermagui and with the flood waters everywhere, the trip was deemed too difficult. 
Georgina Adamson is excited about returning to the land of her birth, the Wimmera… born Horsham  hospital, mid last century.
"I return as Noisy Nonna, after a life spent elsewhere as teacher/educator. The other part of my life has been spent in the kitchen as a Cook, for family, friends and business..having set up and run several food related ventures and venues.
Also I have combined of these interests and run cooking classes and food tours.
'Noisy Nonna' came into being later in life when I became a Nonna.  I Wrote a childrens book 'Noisy Nonna in the Kitchen', and turned it into an interactive children's show with music, mime and dancing.  I have since performed this show at pre-schools, libraries and festivals, basically where there's a gathering of kids.
Then about 6 years ago I discovered Kamishibai, a form of Japanese story telling developed in the early 1900s. The set up utilises a Butai or box, mounted on the back of a bicycle where the teller travelled around relating traditional Japanese stories to the children who gathered to listen and buy treats.
This tradition has been revived and has become popular all over the world. It is also effective as an aid in teaching.
I have taken my portable Kamishibai overseas and performed in countries as diverse as East Timor and America where it was equally well received.
Look forward to meeting in Natimuk."
Noisy  Nonna. (aka Georgina Adamson)
Noisy Nonna is coming to Nati Frinj with her amazing Kamishibai
She will present a number of Shows and tell stories most suitable for young children, as well as the young at heart.
You will meet Sam the Seagull who meets a 'stranger' on the shore; Charlie the Eagle who couldn't fly, The Tiger who Sang, Candy, Bush animal Super Hero, , find out what happened when Nonna got too noisy in the kitchen, and discover the secret of Wombats Hole.  Lots of amazing tales.
The shows are interactive and will involve singing, dancing, and acting when you enter the world of Noisy Nonna and her amazing Kamishibai.
Grown ups are welcome, if accompanied by a child and their phones are turned off.
Join in the fun of Nonnas stories and be part of the show with singing  dancing and lots of noise.