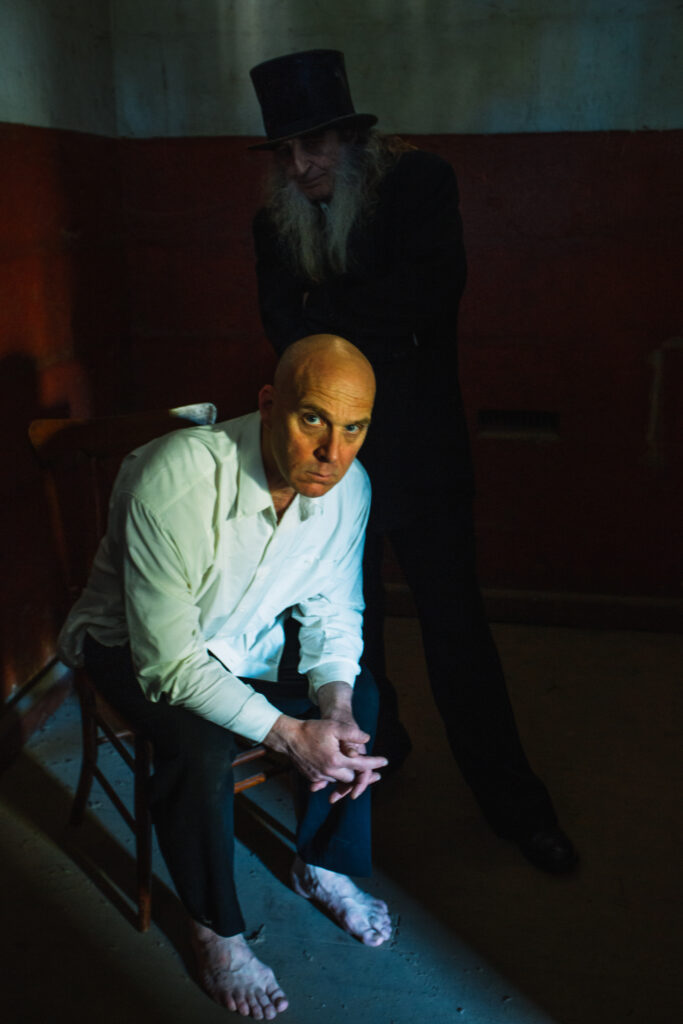 The Black Cat
Mark Penzak Mark's created theatrical experiences for children and adults since 1986. His principal education is a BA Theatre/Media from Sturt University, Masters of Design (Film/TV) Edinburgh College of Art and acting with John Bolton, Philippe Gaulier, Desmond Jones & Howard Fine. His performances for children have appeared at La Mama, Edinburgh & Melbourne Fringe, Melbourne Comedy Festival and throughout Australia, Scotland, England and Ireland. His version of Journey to the Centre of the Earth was nominated for a Greenroom award and his script Tōrō & Rose was awarded the Australian Children's Theatre Foundation Fellowship in 2019. In 2018 Mark was artist in resident at Popps Packing in Detroit where he explored the consequences of racism and how that might be explained through theatre. Mark co-directs Such As They Are with Eliza-Jane Gilchrist which creates theatrical events where the primary communication is symbolic. Performances include the autopsy-like Transplant and Nightmare, a performance inside a horsefloat. Both were nominated for Greenroom Awards. Their most recent production Once and For All engaged with communities to devise a tour of the local cemetery that told the story of the people buried there and acknowledged our mortality. In 2019 Mark collaborated with Andrée Cozens to create Cafe Cantata, a cabaret play that updated Bach's 1735 performance. In 2021, Mark was awarded the UNIMA Lorrie Gardner Scholarship. He resides in the Victorian town of Castlemaine.
www.markpenzak.com           www.suchastheyare.com
Glendon Blazely is a singer-songwriter who also plays guitar, banjo, mandolin, trombone, trumpet, musical saw, and keyboards. He currently performs with his own bands Grumpy Neighbour and night, Owl Hollow… and also features in Dirtbird. He has released albums with all three current bands as well as appearing on records by The Dumb Earth, waywardbreed, Oscar Lush, and The Teskey Brothers (He played musical saw on Run Home Slow ARIA award for best blues and roots album 2019) amongst others. He also works as Dj wind-up. Using 2 wind-up gramophone players and a selection of 78 rpm shellac records (from his collection of over 6000) he transports you back to the time of your grandparents and great-grandparents (1920-60). He has performed in hotels, at weddings, tea parties, garden parties, art exhibition openings and various festivals and dance parties including Artlands (Bendigo) as part of Cultural Pharmacy, Let them eat cake (Werribee Mansion), Chillout (Daylesford), The Town Culture Jam (Benalla), Race the Train (Maldon), Gold Soundz Festival (Guildford) Car free Carnivale (Maldon) amongst others. Dj wind-up is the alterego of musician Glendon Blazely who lives in the central Victorian Goldfields region.
The Black Cat
Edgar Allan Poe's twisted tale is taken to the stage.
On the eve of his death, a nameless man tells a gruesome tale. Slippery and unreliable, he is transfixed by a hatred for the pet cat he shares with his wife. Propelled by an unnatural hatred and haunted by the spectre of 'the beast', the man's life unravels and he decends to a diabolical crime.
Using Poe's original 1843 text, this masterpiece of terror is rich in the sumptuous language that is the hallmark of classic Gothic tales. PerhapsThe Black Cat is an analogy for misogyny or a symbol of the darkness in the human psyche or maybe, as the narrator asserts, the story of devilish seduction.
This chilling tale is brought powerfully to the stage through Glendon Blazely's original music and Mark Penzak's acting. Both Mark and Glendon have each been performing for over thirty years and this compelling work highlights their experience and life-long passion for the arts.
This classic tale showcases theatre and its unique ability to speak to our humanity. 'After covid, we wanted to make something quintessentially theatrical. Plus' laughs Mark Penzak. 'it's gothic, macabre and terrifying! What's there not to like?'
Trigger warnings: Stylised depictions of domestic violence, alcoholism and cruelty to cats.