That Changes – 9
That Changes is a Melbourne based artist duo of Con Veligos and Spiros Antoniades. They have been involved with various music bands and projects over the last 30 years. They came together last year to work on an audiovisual project called "9", comprised of original music and video/photograph projections.
Con has played bass and guitar in various bands in Greece. Upon moving to Melbourne, he undertook formal music studies at the Melbourne Polytechnic. His most recent project was with a Melbourne band, Gale's Edge. His other passion is exploring colour, people and landscapes using photographic and video mediums.
Spiros was the percussionist of Xylouris Ensemble, a prominent Melbourne band in the 90's. After George Xylouris moved back to Greece, Spiros became involved with a number of bands performing live and creating film soundtracks (the most known being the multi award-winning film "One Night the Moon"). He also partook in the production of musical theatre (not musicals), such as the "Golden Fleece", stories of immigration with references to the myth of Jason and the Argonauts.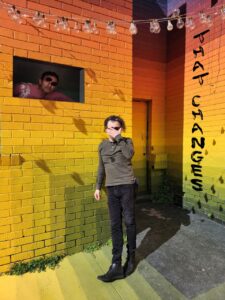 "9" is a collection of 9 songs (9 here representing the esoteric meaning of personal growth and enlightenment) and their visual projections. The visual part is prerecorded and screened while That Changes performs live. There is contemporary dancing, underwater footage, stills, visual effects, other video footage, all complementing the message we want to communicate (real personal relations, environmental sensitivity and awareness, interpersonal growth). "9" is also a diary of human evolution within Nature itself, using culturally global symbolic elements, and discussing ideas of political awareness, overconsumption, environmental degradation, systemic sociopolitical weaknesses, human interconnectedness.
"9" is about the human struggle to belong.