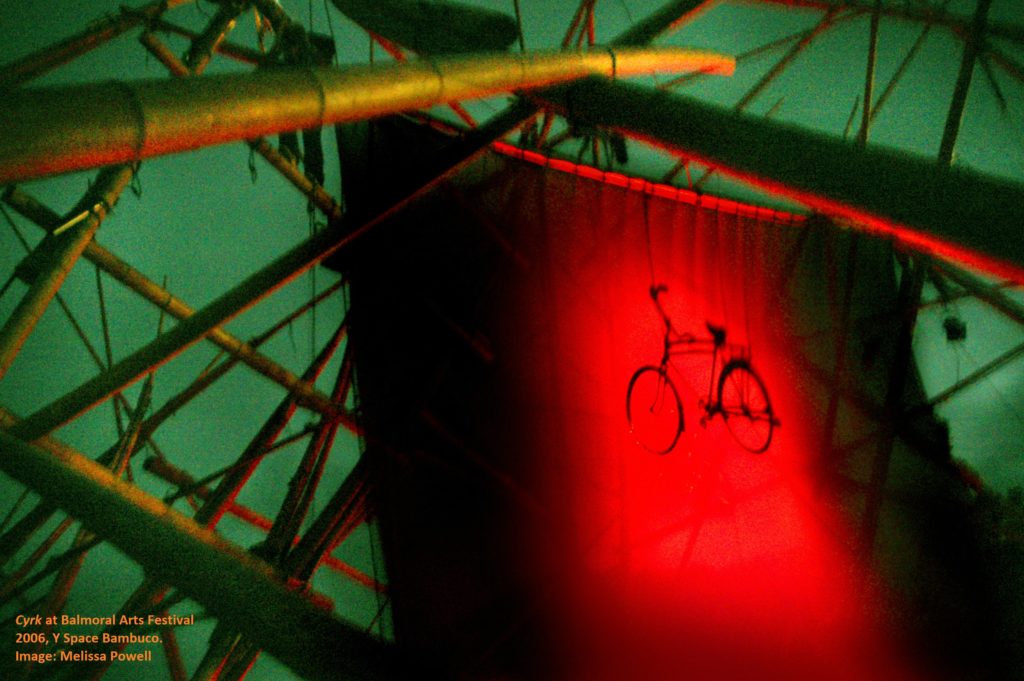 Styckx Theatre Venue
Y Space and Nati Frinj Biennale present Styckx Theatre and performance outcome, Playground – a spectacular community performance event created within, on and of, an incredible bamboo structure designed by international acclaimed artist, Simon Barley of Bambuco.
Bambuco was known all through Europe and Asia for audacious one-off, site-specific installations,  the construction of which became performances in their own right. The year before Simon's death in 2007, Y Space commissioned him to design a repeatable installation which could be built and then developed as a unique performance that spoke to the nature of the materials from which it evolved. This he aptly titled "Theatre". Since then, Styckx Theatre has emerged.
Physically, Styckx Theatre is two enormous bamboo arches that intersect to create a cavernous 45m long, 25m wide and 16m tall bamboo theatre space. It is a symphony of sound, a playground of possibility and home of Mr Styckx and his bamboo world inspiring awe and delight through a completely new theatre experience.
And you can become a part of the Styckx Theatre story by making a donation! We are seeking funds to help buy the sustainably sourced bamboo from Queensland, as well as conduct specialist workshops that rekindle within Natimuk, the skills in bamboo construction developed by Bambuco.
To read more about the journey of Styckx Theatre through the eyes of Y Space director Jillian Pearce, please visit the Y Space blog here
Major Partners:
Nati Frinj Biennale
Bambuco
Secondary Partners
Auspicious Arts
Made In Natimuk
ACT Natimuk
Transience
Funders:
Australian Cultural Fund and the contributors to the campaign
Festivals Australia
Creative Victoria
Australian Communities Foundation and the Clack-McLure Fund