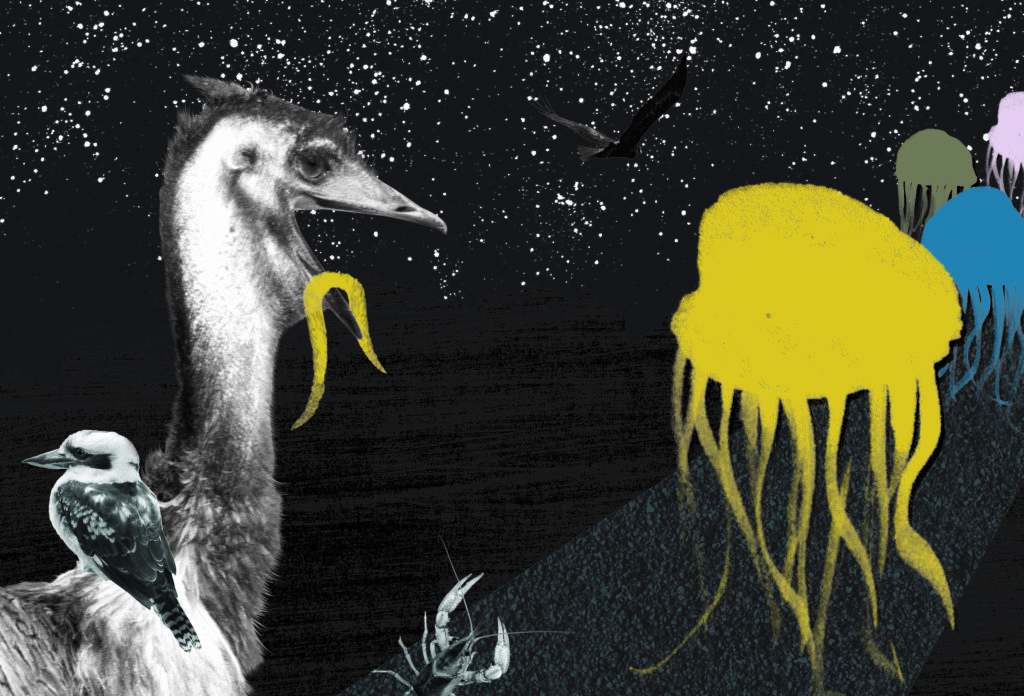 Here They Come!
Millions of years ago, Natimuk was under water. Strange, yet oddly familiar creatures travelled the earth, swam the sea, and flew in the air. At the opening night parade, Black Hole Theatre will deliver a contemporary mix of these: jellyfish who light up and swirl through the crowds,, flocks of birds, an emu, even a luminous yabby. All will be puppeteered by local volunteers trained during the weeks leading up to the festival. Watch out for them at other gatherings as well over the weekend!
Black Hole Theatre: Founded in 1993, Black Hole Theatre (BHT) is an independent company that develops and presents puppetry and cross-art form performance in collaboration with artists from every field. Under the leadership of Artistic Director Nancy Black, BHT also facilitates the work of emerging artists, provides skill development opportunities, contributes to the evolution of contemporary puppetry, and collaborates with local and international artists and companies.
BHT is renowned for its innovative, cutting edge productions. They include: And the Ass Saw the Angel, Caravan (European tour), Coop (multi Green Room awards), Lost in Tranzit, Hutch, Into the Black Hole, Where the Wild Things Sing, Les Meduses (international tour), Blind(international tour), The Book of Revelations. 2018 saw the development of The Line, an international co- production involving Irish artists, First Nations artists from Tasmania and non-Indigenous Australians, the highly successful presentation of Blind in NYC, and the development of The Last Lighthouse Keeper. In 2019 the company received 2-year funding from Creative Victoria, and is developing 7 regional, local and international projects that range from children's work to physical theatre to abstract opera. We are working cross-culturally with First Nations, local and international artists, emerging and experienced.
Black Hole Theatre, Mary French, Ron Marks, performed by volunteers from the Wimmera community
This project is supported by Creative Victoria, Black Hole Theatre, Barengi Gadjen Land Council, Regional Arts Fund