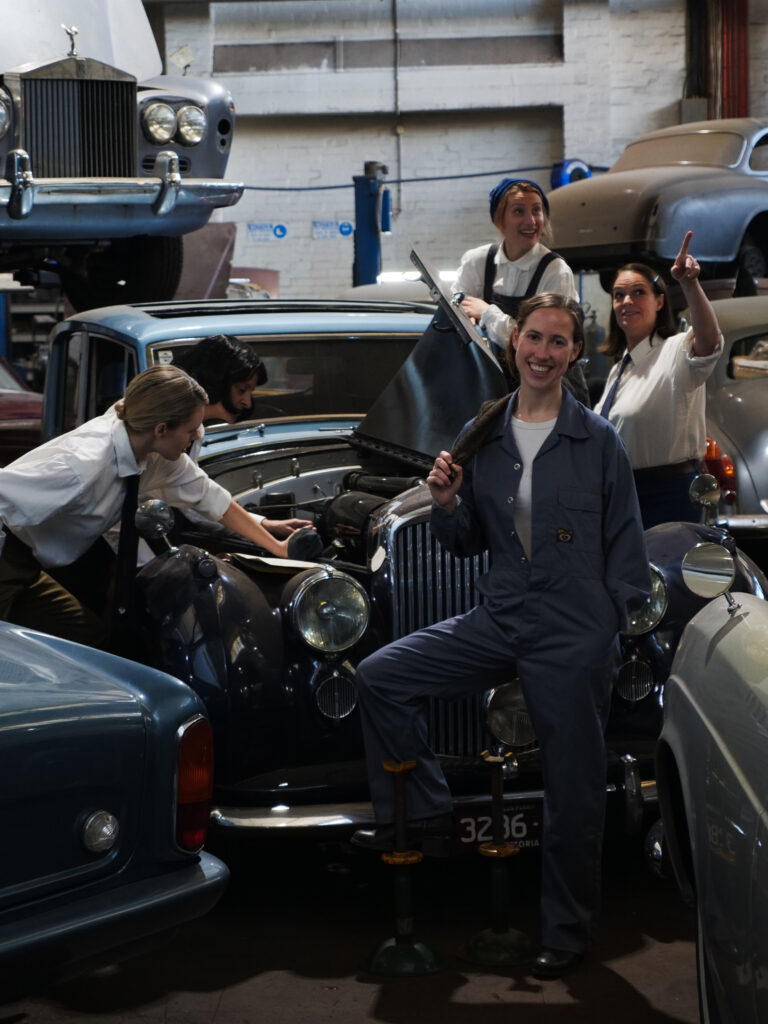 Garage Girls – by Three Birds Theatre & The Shift Theatre
Three Birds Theatre is a Green Room Award-nominated, independent theatre company established in 2015 by Candace Miles, Madelaine Nunn and Anna Rodway (graduates of the Victorian College of the Arts). Three Birds Theatre has swiftly gained recognition as exciting innovators of sharp, comedy driven theatre, with their original works receiving critical acclaim. Three Birds Theatre is devoted to bringing female-focused stories to the stage, through harnessing musical language, witty dialogue and a striking visual world. Original works include Will This Show Take Off? (Nati Frinj), Enter Ophelia (La Mama, National Gallery of Australia), LadyCake (Poppy Seed Theatre Festival, Nati Frinj) and Three Birds One Cock (Melbourne Fringe, Adelaide Fringe, Mechanics Institute, toured regionally with Regional Arts Victoria). With four original works over four years, written, performed and produced by Candace, Madelaine and Anna, extensive tour experience, a building trajectory of work and devoted audience base, Three Birds Theatre is quickly cementing its place within the Australian theatre landscape.
The Shift Theatre's mission is to create dynamic theatre with strong female roles. Since 2009, they have produced works of longevity with a solid touring history proven regionally, nationally and internationally. The key to their artistic practice is passion for the power of storytelling and the platform of live theatre. The Shift Theatre produces original work championing women's stories and exploring historical female experiences. The Shift Theatre had its inaugural season at The Dog Theatre in Footscray with the Australian premiere of Nilo Cruz' Two Sisters and a Piano and Fred, by acclaimed Australian playwright Beatrix Christian. The Shift Theatre co-produced Lost In Ringwood by Barry Dickins.
The company's original Australian work The Girls in Grey was developed through La Mama's Exploration program and featured at The Shrine of Remembrance as part of Education Week. Following the first season at Theatreworks, St. Kilda, The Girls in Grey toured regional Victoria, N.S.W. and W.A. The Shift Theatre's next original work Hallowed Ground – Women Doctors in War premiered at La Mama in Carlton, toured to Adelaide Fringe Festival, regional Victoria and Edinburgh Fringe Festival winning a Summerhall Lustrum award. #NoExemptions by Angela Buckingham, supported by the Besen Family Foundation, had a sold-out season at La Mama Courthouse in 2022.
Three Birds Theatre & The Shift Theatre join forces to present Garage Girls: a new, original theatrical work exploring the extraordinary paths forged for women in industry and innovation by 1920s Melbourne woman, Alice Anderson – the trail-blazing, pioneering, go-getting founder of Australia's first all-girl garage. Come along to a costumed reading of the show prior to the work's premiere season in Melbourne in 2023!