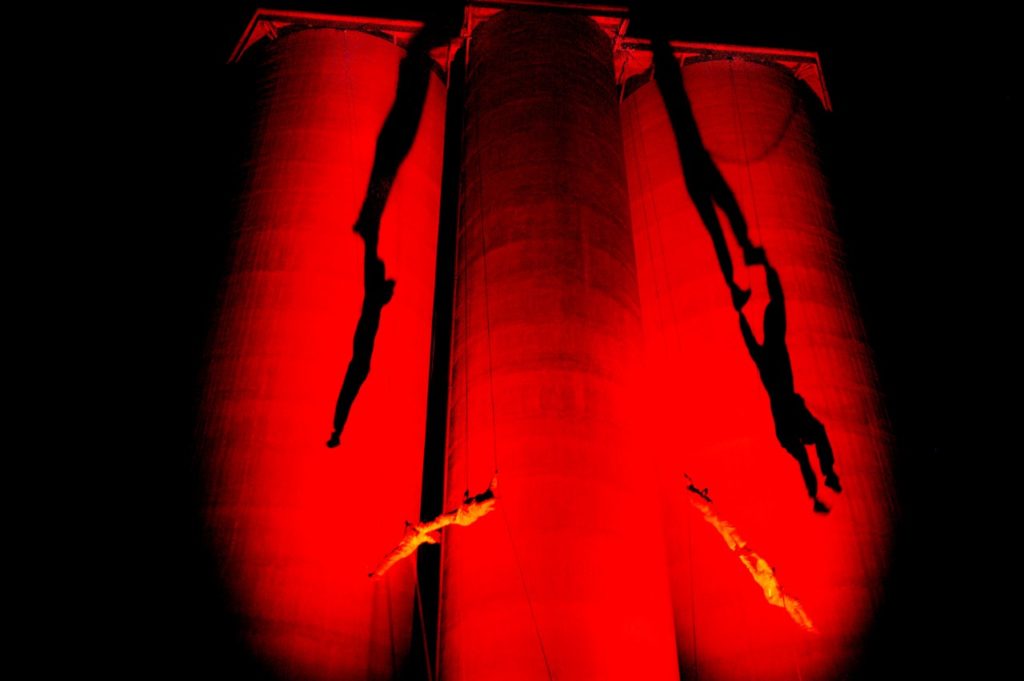 Dusk
(Natimuk)
Three spectacular outdoor Silo performances that change each evening to reflect the day that was at the Nati Frinj Biennale, 3-5 November 2017.
Aerialists and circus theatre, interactive projections, live interviews with the moon, light paintings, community photography, musicians, poetry, shadow play and mystery elements plucked daily from the festival, all combine to become a nightly reflection that captures and celebrates the experience of the Nati Frinj Biennale
Y Space Producer/Director Jillian Pearce will lead a collaborative team of local artists Dave Jones, Mary French, Greg Pritchard and Edwin Irvine, Clunes based Asking for Trouble, Canadian based Aeriosa Performers Julia Carr and Abby Watkins and you!
Dusk is supported by the Victorian Government through Creative Victoria, the Horsham Town Hall and all our fabulous supporters through the Dusk Australian Cultural Fund Crowdfunding Campaign.
Thank you! By purchasing a Dusk ticket you are showing your love for the arts and supporting an awesome project. Your ticket will ensure that we meet our budget and can pay our fabulous artists, I'm sure you will agree they're worth it.
FOR ONLINE PURCHASES PLEASE FOLLOW THESE STEPS
To purchase a family ticket
* Enter 5
* Select your preferred date
* Select Best Available
* Change your ticket type from Single to Family one day or three day
* Select Print at Home (preferred) or Box Office Collection
* Review Sale
* If you require additional tickets, you can select Purchase Another Please ensure that you do not use your back key when processing, as additional tickets can be purchased in error.