Beatroute and the Nang Nangs
David Patterson, Jess Gardner, Richie Darling, D'Arcy Molan, Damien Ballinger, Rae Perry, Beau Ladlow, Jason Bunn and Rex Hateley.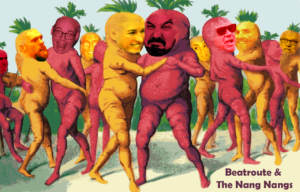 Beatroute & The Nang Nangs – Frequent festival vagrants here to terrorise another frinj dancefloor. A huge nine-piece band with a fistful of brass, takes no prisoners. Comprising local libertines – the collective's annual convergence brings about unprecedented, unrecorded, freestyle original beats. Footloose and fancy free, it can only be experienced. A multi-disciplined, fanatical, confusion of energy – looking for a genre to call their own.