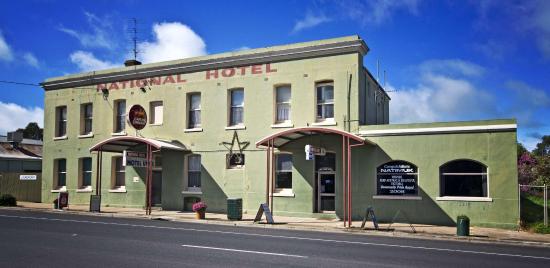 Bars
The National Hotel – Main Street
The first and for some the best.  Come in and experience the hospitality of Bill Lovell and his staff. Trip Advisor give it 4.5 stars and say it is the #1 pub in Natimuk.
There are meals, and there will be music.
There is also an ATM.
Wednesday, Thursday & Sunday Lunch from
12:00pm-1.30pm, Dinner 6:00pm-8:00pm
Friday-Saturday Lunch 12:00pm –1.30pm, Dinner
6:30pm-8:30pm
Opening Hours – General
Monday & Tuesday 3pm-Close
Wednesday – Sunday 11:30am till Close
Natimuk Cafe – Main Street
Good Coffee, and more meals and more music. Say hello to Kevin Lindorff , a dead set legend who has put up some of the scariest rock-climbs in Australia.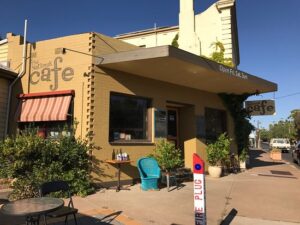 Club Tropicana Venue: ArapilesFlow studio garden, Depot Lane Access also via 117 Main St
Everyone needs a little Mojito in their lives. Or maybe a Cuba Libre.
You get the drift. Chill out under the fringed umbrellas, lounge around on the rugs and chat about all things Hemmingway and Havana. Cool Cuban playlists and live music.
Feathered showgirl headdress and cigars(unlit) are optional, but where's the fun in that!
Saturday & Sunday 2-6pm
Sorry, but no BYO.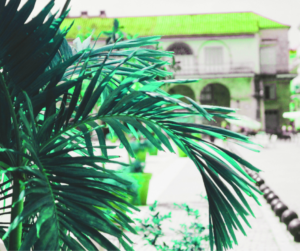 Grist Bar Venue: Rear Soldiers Memorial Hall, 101 Main St
It's a bar on the round. Set outside with the Silos in view, it's a people watchers haven.
All good festivals need a bar that starts in the arvo and heads on into the evening.
If you need a break between shows, catch up with some long lost Frinj friends or meet some new ones, this is most definitely the spot. Grab a gristy bevvie and settle down. You're in prime Frinj real estate here and only a hop or step to the next event.
Saturday 3 -10 Sunday 3-6
Sorry but no BYO.