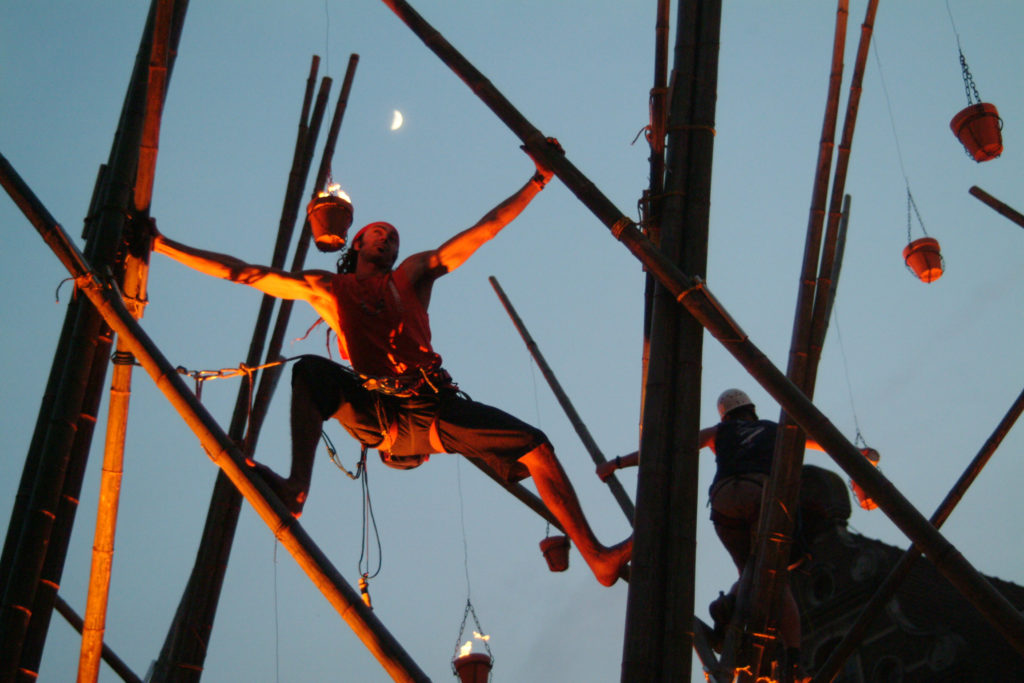 Bambuco Archive
Bambuco was an arts company founded in 1998 by Simon Barley that specialised in creating temporary temporary installations with bamboo. The installations combined theatre, sculpture and architecture on a grand scale, with the construction of each work considered part of the overall performance.
The Bambuco Archive was donated to Auspicious Arts in early 2019 after spending some years in a shipping container in the Otways. Since then work has commenced in earnest to sort, catalogue, digitise and preserve the collection which consists of a significant number of documents, drawings, images, videos and models from Bambuco's active years, alongside Simon Barley's own projects and a small personal archive.
Adjacent to this work, the Bambuco website has been updated to showcase some of these archival images and key projects.
Thinking to the future, a number of video documentaries have been uncovered and will be converted from VHS to digital. Due to the significance of these projects and the opportunity the films present to glimpse the inner workings of Bambuco, Auspicious are working to implement phase two of the archival process and capture this archival footage in the collection.

First stage archival process funded by Auspicious Arts Projects Inc.
The Bambuco Archive would not be possible without the original artistic vision and drive of Director Simon Barley, and a key collaborator and Associate Director Erik Pootjes; Jillian Pearce (Y Space), Anna Cordingly and Robbie Oliver for the original archival work; Jillian Pearce and Flynn Hogan for the stewardship of the collection before Auspicious; Sahra Martin for the diligent and careful cataloguing and documenting of the collection; Irina Agaronyan and John Paxinos for overseeing the project; and the entire Bambuco family of eras past, present, and future.